Travel and Insurance in Cambodia
Cambodia is experiencing economic growth of 7 per year, with two thirds of its exports to Europe and North America. The country is gradually urbanizing and trade with France tends to progress.
If not for economic reasons, then Cambodia's culture and landscapes will convince you to visit this fascinating country. We advise you to travel to Cambodia before moving abroad.
Here is some information to help you organize your trip in complete serenity. Of course, think about your Cambodia health insurance!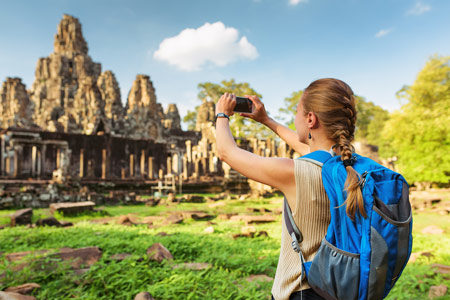 When to go to Cambodia?
Cambodia has a tropical monsoon climate with temperatures of up to 32 degrees Celsius throughout the year. The best to leave is the dry season between November and February but also the warm season between March and May.
Cambodia's climate is tropical, which means it's hot all year round. It is divided into two seasons. There is a monsoon from May to October, and a dry season from November to April.
The rainy season is very difficult for visitors to endure. Temperatures rise very high and the rains, although short-lived, are torrential.
It is therefore advisable to travel to Cambodia during the dry season. During this period, temperatures vary around 22 to 25 degrees Celsius. January and February are the most optimal travel conditions.
If you plan to enjoy the beaches of Sihanoukville, the sea temperature stays between 28 and 30 degrees Celsius all year round.
The must-see places to visit in Cambodia
Phnom Penh, the capital
If in Europe all roads lead to Rome, then to Cambodia, they will lead you to Phnom Penh. Indeed, the roads are distributed in stars around the capital, so you can not miss it.
In addition to being the economic heart of the country, and its most modern city, it is rich in history. You will find the royal palace, a collection of buildings of typical architecture where the King of Cambodia lives. The silver pagoda that is part of it is a royal temple. It houses many national treasures such as Buddha statues in gold and precious stones.
If you are not afraid and want to know more about the recent history of the country, two places are worth a visit. The first is the Tuol Sleng S-21 Genocide Museum. This former school was converted into a prison during the Khmer Rouge reign from 1975 to 1979. It is a place of remembrance that today presents photos and paintings testifying to this important period in the history of Cambodia. The visit continues with the Choeung Ek Memorial (Killing Fields).
Siem Reap Province
The province of Siem Reap is particularly known for being home to the angkor archaeological site. This is the ancient capital of the Khmer Empire, with temples more beautiful than the others. This site is a Unesco World Heritage Site.
There are also floating villages or on stilts of Tonle Sap. In dry season, houses on stilts can rise more than 6 metres above the ground. However, it is generally advisable to visit these villages during the monsoon season.
The Angkor Silk Farm is also a popular spot for travellers. You can discover local know-how, from breeding to weaving to ending with the natural dyeing of silk.
If you stay in town, don't hesitate to take advantage of the famous Pub Street to meet the locals. The night markets are also a must and a beautiful experience of life in Cambodia.
Wherever you go in Cambodia, don't hesitate to learn about the apsara dance program. These traditional dances are a must to fully appreciate your cultural journey.
Traditions and events
Chinese New Year (end of January): As in most Asian countries, the Chinese New Year or Lunar New Year is celebrated in Cambodia. China and Vietnam, which also celebrate the festival as Tet, are the countries from which the majority of tourists come from Cambodia.
Khmer New Year (early April): With nearly 97% of the population being Buddhist, Khmer New Year is the most important holiday of the year in Cambodia. Although it was originally dependent on the lunar calendar, the festival was postponed to celebrate the end of the dry season. In this way, farmers could enjoy the end of the harvest (which lasts from November to March). This festival lasts three days: Moha Sangkran, Voreak Wanabat, and Thngai Laeung Saka. During these, Cambodians decorate their homes, present offerings to pagodas, and make traditional games. It is a time of encounter and celebration.
Water Festival (late October, early November): This festival celebrates the change in the flow direction of the Tonle Sap River. During the rainy season, flooded Mekong water flows into Tonle Sap Lake, fertilizing the land and bringing plenty of fish. At the end of the rainy season, at the beginning of November, the river resumes its course. The water recedes quickly and leaves behind a large number of fish to feed the inhabitants. It is a very important traditional festival in Cambodia. During the three days, you can observe canoe races and folk dances. The third day closes the festivities with a parade of barges and fireworks.
Angkor Vat Half Marathon (early December): A well-known festival for travellers and expatriates is the Angkor Vat Half Marathon. It raises funds to help mine victims and prevents certain diseases. It also promotes other humanitarian activities. If you are a sportsman and want to have fun and meet people in front of the landscapes of Angkor, this event is for you.
What health insurance for Cambodia?
Why take international health insurance when travelling or living in Cambodia? Simply because health spending quickly reaches very high amounts abroad. On the other hand, health insurance is compulsory in Cambodia in order to be covered in a public or private institution. In addition, the repatriation guarantee is an essential criterion. In the event of a serious accident it is sometimes necessary to carry out a medicalized repatriation to the nearest medical centre or to the country of residence. Depending on where you are at the time of the accident, and depending on the medical prognosis, it may be necessary to Charter a helicopter or a medicalized aircraft.
Mondassur supports you in your choice of international health insurance by helping you compare the different offers on the market. Depending on your profile, we will be able to offer you different travel,international student and expatriate insurance packages.