Living in Germany and Expatriate Insurance
Germany undeniably offers an excellent quality of life for expats and is full of opportunities. In order to better prepare for your departure, we advise you to take out international health insurance for your expatriation in Germany with Mondassur and to read our practical advice on your future daily life!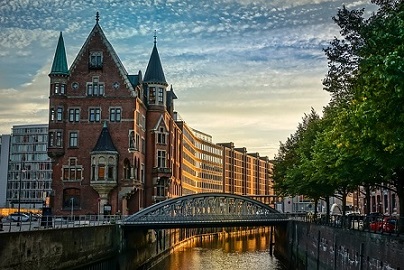 Working in Germany
Working in Germany can be an interesting opportunity for people looking for new career prospects. If you plan to work in Germany, it is useful to know the sectors that hire the most in this country:
• Tertiary sector : The tertiary sector is the largest in Germany, offering employment opportunities in fields such as education, health, science, research and development, automotive and agriculture.
• Industry : German industry is highly developed and offers employment opportunities in fields such as engineering, machine manufacturing, automotive, aerospace, shipbuilding and energy production.
• Information and Communication Technology : Germany is one of the European leaders in the field, offering job opportunities in the fields of programming, IT security, project management, software development and data analysis.
• Finance : Frankfurt is one of Europe's most important financial centres, offering job opportunities in banking, insurance and financial advisory firms.
• Tourism : Germany is a popular tourist destination, offering employment opportunities in the fields of hospitality, catering, leisure and travel arrangements.
• Health sector : The German healthcare system is recognised for its quality, providing employment opportunities for healthcare professionals such as doctors, nurses and social workers.
• Renewable energy: Germany is a world leader in renewable energy , offering employment opportunities in solar, wind and hydropower generation.
Schooling in Germany
Schooling in Germany is compulsory for all children from the age of 6. Education in Germany focuses on the individual development of the child and encourages the formation of balanced and talented children.
The RealSchule, which offers a more vocational training than the Gymnasium, is very popular with German students because of the importance given to learning. The Gymnasium is considered a general high school preparing for university.
International schools are also numerous in Germany due to the presence of expatriates in the country. French schools are particularly prevalent in large cities, offering programs from primary to high school.
The school rhythm in Germany is structured in such a way as to concentrate classes in the morning, usually until 1 p.m., thus allowing children to practice activities and leisure activities in the afternoon.
Staying in Germany
It is recommended to start your housing search as soon as possible, as the real estate market in Germany can be very competitive. Specialized websites, real estate agencies, as well as social networks can be useful to find accommodation.
Rent prices vary from city to city. Here is an overview of the average rent prices in some major German cities:
• Berlin : about 11 €/m2
• Hamburg : about 11 €/m2
• Cologne : about 10 €/m2
• Munich : about 15 €/m2
What is the cost of living in Germany?
The cost of living in Germany depends a lot on the city and region where you are. In general, large cities like Berlin, Munich, Hamburg and Frankfurt have a higher cost of living than small towns and rural areas.
To give a general idea, here are some examples of prices in Germany:
• A single public transport ticket costs around €2.80 in Berlin, €2.90 in Frankfurt and €3.20 in Munich.
• Electricity, gas and water bills for an 85 m2 apartment cost around €150 in Berlin, €200 in Frankfurt and €250 in Munich.
• The average monthly cost of a broadband Internet subscription is around €30-35 in Berlin, €35-40 in Frankfurt and €40-45 in Munich.
Driving in Germany
If you are an EU or EEA citizen, your national driver's licence will allow you to drive freely in Germany, while permits issued by other countries will only allow you to drive in the country for up to six months.
Hygiene and eating habits in Germany
No hygiene problems in restaurants, markets and shops. Tap water is safe to drink. German cuisine is simple and traditional, based on potatoes, cabbage, and pork. As in Anglo-Saxon countries, breakfast is plentiful in Germany. Lunch is quick and dinner is taken quite early, between 6pm and 7pm. Germany is also the country of beer, and each region has its own. White, blonde or brunette, there's something for everyone!
Choosing health insurance in Germany
When moving abroad to Germany, taking out international health insurance is a crucial step to protect yourself from the high healthcare costs in this country. Expatriates can benefit from so-called 1st euro insurance, which covers all medical expenses without deductible or waiting period.
At Mondassur, we offer a wide range of international health insurance for expatriates in Germany, depending on their profile and criteria. We can advise you on the different formulas adapted to your needs, so that you can take out health insurance with confidence. You can also get an immediate free quote online for health insurance in Germany, simply by filling out an online form. We are here to help you make the best choice and offer you optimal protection for your health.